Welcome to Lisburn Taekwondo
Taekwondo: The Art Of Hand And Foot,
The Full Contact Olympic Sport
Motivate Yourself And Improve
| | | | | | |
| --- | --- | --- | --- | --- | --- |
| Stamina | Endurance | Flexibility | Mind | Self Defence | Speed & Strength |
Upcoming events
UTA Northern Ireland Kyorugi Seminar
Saturday 21 January 2017 - Lagan Valley Leisureplex, Lisburn
2:30pm-5:30pm £20
Andrew Deer, former Team GB athlete, European Bronze Medalist, British Champion & Commonwealth Champion.
Northern Ireland International Poomsae Championships
Saturday 25 February 2017 - Queens Sport, Botanic Park, Belfast BT9 5EX
Dan, K1, K2, K3 Para & freestyle divisions
International Poomsae seminar
Sunday 26 February 2017 - Queens Sport (TBC)
Master Sung Hey Kim - 8th WTF World Poomsae Champion, Bali
Tae Woong Kim - Member of the WTF demonstration team
---
Dan Grading Success
Congratulations to to Adam Finlay promoted to 1st Dan and Michael Tiffen promoted to 2nd Dan at the UTA Dan Grdaing in Scotland on Saturday 15 October 2016.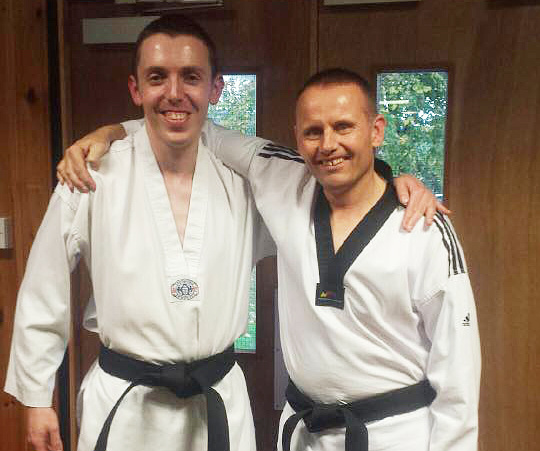 > Read more news
---
Success at Irish International Open 2016
Saturday 17 (Kyorugi) & Sunday 18 (Poomsae) September - The Arena, Tallaght, Dublin
21 players from Lisburn Taekwondo Club won 36 Medals: 17 Gold, 8 Silver and 11 Bronze. Best player at the championships - Amy Stewart. UTA NI (NI Team) also won the overall team trophy. Awesome performance! Missing from photo Neil, Sharon, Dylan, John and Stephen.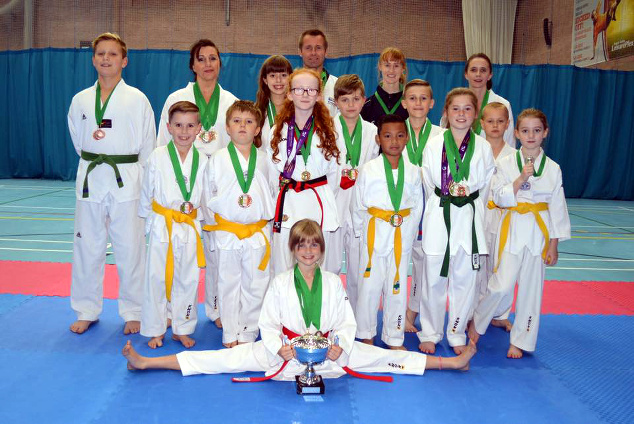 > Read more news
---
Success at Taekwondo Scotland Poomsae Championships
Saturday 3 September 2016 - Meadowbank Stadium, Edinburgh
10 players from Lisburn Taekwondo Club won 26 medals. UTA NI (NI Team) also won 1st place overall trophy. Great performance! Missing from photo Sharon and Neil.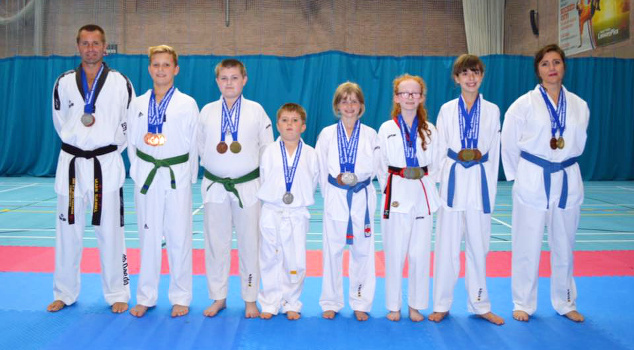 > Read more news
---
About Taekwondo
What's this all about?!
Here you can find out all about Taekwondo - a point of reference, information, photos, interaction and more!

We aim to promote taekwondo, encourage everyone from all walks of life, all ages, either gender and of all shapes and sizes to come along and find out what this sport is all about.

As our ethos states, we aim to build your strength - physically and mentally - so that you can improve your body, how you feel and improve your confidence in yourself - your overall spirit of well-being.

Think that we are talking nonsense? Then come down and chat to our members - feel free to find out what they get out of Taekwondo, how it helps them and gives them focus to mtoivate and drive them in their everyday lives. They would be happy to share and demonstrate!
How do I know if Taekwondo is for me?
If you have an interest in martial arts, then come and chat to us! Watch some videos online (see our links section) and if it looks like your bag, then come along. Try it out!
The truth is you don't know...until you try! We think there's a bit of taekwondo (or tkd) in all of us!
Still unsure?
Compete at local, national and international levels
Change your lifestyle - get fit and healthy
Improve concentration, mental awareness - give your brain 'something to do'
Have you watched TKD on Eurosport, or in the Olympics and thought..."I wanna do that&quot?;
Become more flexible; improve balance, posture and general well-being.