Welcome to Lisburn Taekwondo
Taekwondo: The Art Of Hand And Foot,
The Full Contact Olympic Sport
Motivate Yourself And Improve
| | | | | | |
| --- | --- | --- | --- | --- | --- |
| Stamina | Endurance | Flexibility | Mind | Self Defence | Speed & Strength |
Cheque Presentation for Anasatassiya's recovery
Big thank you to everyone who helped with our charity hike for Anasatassiya's recovery. Organised by Master Peter Stewart, members of Lisburn Taekwondo Club and Lisburn Fire & Rescue Service hiked to the top of Slieve Donard in the Mourne Mountains on Sunday 24 April 2016.
Over £4,500 was raised - an amazing total! The cheque was presented to Anastassiya and her family on Tuesday 10 May 2016.
Anastassiya said: "Just want to say a MASSIVE THANK YOU to Lisburn Taekwondo Club, Lisburn Fire and Rescue Service and to everyone who took part in the event and who has donated for raising such a fantastic amount of money for my recovery! A BIG Thank You to Peter who has organised all of this for me and most importantly who was one of the people that saved my life on the day of the accident. I appreciate this so much. Honestly wasn't expecting that at all today, it had me speechless! Thank you all again XXX"
> Read more about Anastassiya's story
> Make a donation to Anastassiya's recovery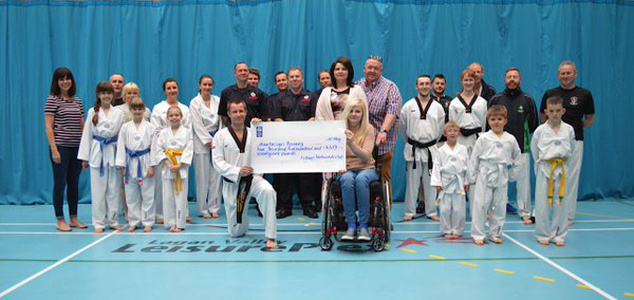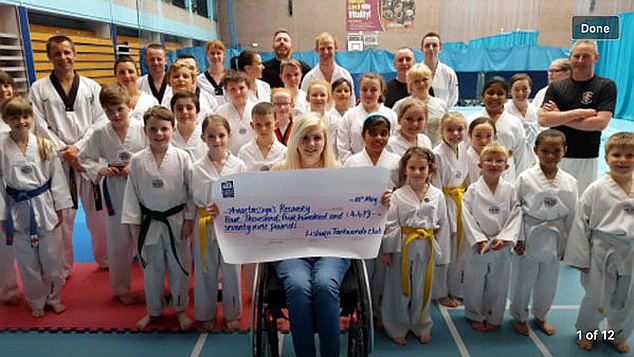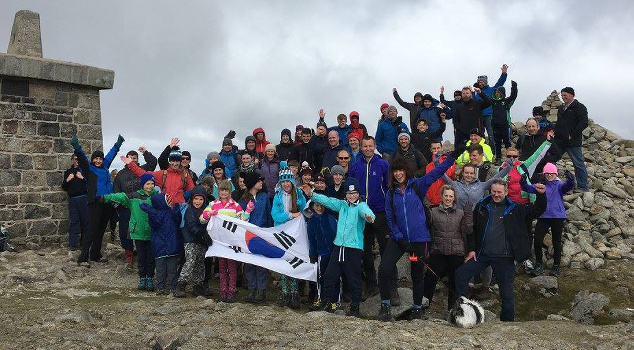 > Read more news
UTA Dan Grading Success
Congratulations to Lisburn Taekwondo Club students who passed their dan grading in Stoke, England on Saturday 9th and Sunday 10th April 2016:
Laura burns promoted to 3rd dan
Stephen Riley promoted to 1st dan
Victoria Kirkpatrick promoted to 1st poom
> Read more news
---
About Taekwondo
What's this all about?!
Here you can find out all about Taekwondo - a point of reference, information, photos, interaction and more!

We aim to promote taekwondo, encourage everyone from all walks of life, all ages, either gender and of all shapes and sizes to come along and find out what this sport is all about.

As our ethos states, we aim to build your strength - physically and mentally - so that you can improve your body, how you feel and improve your confidence in yourself - your overall spirit of well-being.

Think that we are talking nonsense? Then come down and chat to our members - feel free to find out what they get out of Taekwondo, how it helps them and gives them focus to mtoivate and drive them in their everyday lives. They would be happy to share and demonstrate!
How do I know if Taekwondo is for me?
If you have an interest in martial arts, then come and chat to us! Watch some videos online (see our links section) and if it looks like your bag, then come along. Try it out!
The truth is you don't know...until you try! We think there's a bit of taekwondo (or tkd) in all of us!
Still unsure?
Compete at local, national and international levels
Change your lifestyle - get fit and healthy
Improve concentration, mental awareness - give your brain 'something to do'
Have you watched TKD on Eurosport, or in the Olympics and thought..."I wanna do that&quot?;
Become more flexible; improve balance, posture and general well-being